Personalized Work Uniforms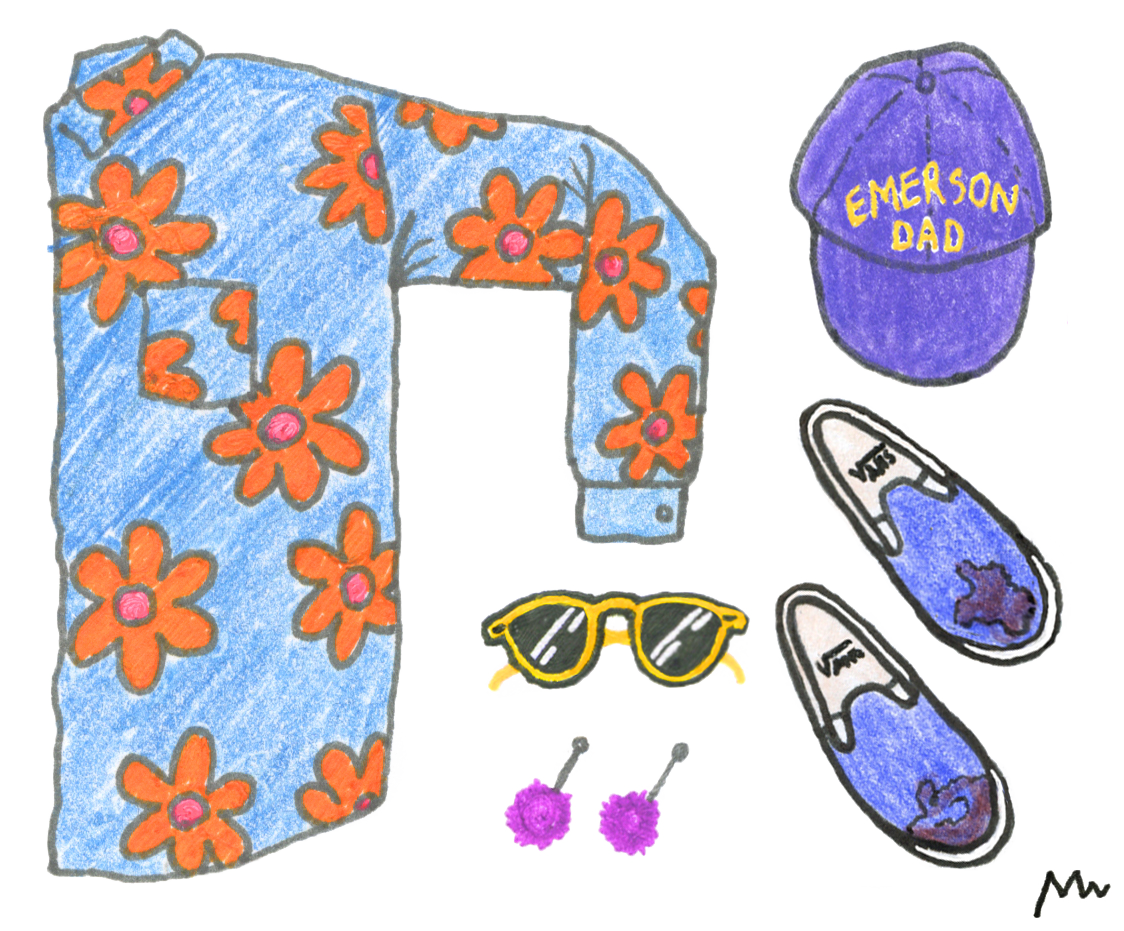 One of the more forgettable aspects of a job is having to adhere to the dress policy. Whether you have a uniform or minimal wiggle room in what you can wear, chances are that how you dress on the job is different from how you dress off the clock. You get the sinking feeling that a dress code strips away your individuality; a uniform turns you into a copy of every other employee. But, if you find the loopholes in your company's dress code, you'll find that those limits can help you open up to the most liberating expressions of your style. Here are a few college students who found their way around the workplace by packing a little personalized flair in their look:
Jake, Starbucks barista
Dress Code: Employees must wear pants, shorts, skirts or dresses in black, gray, navy, brown, and khaki (no white). Jeans may be worn in darker washes and hues only (no light tones). Starbucks® promotional T-shirts may be worn.
What's your usual style?
"My style changes quicker than New England weather. I love anything tight fitting; skinny jeans are a big part of my wardrobe. I also love 90s apparel, so you can find me in baggy sweaters, oversized jackets, sweatpants, and lots of denim."
What aspects of your style do you sacrifice or compromise for the sake of meeting the dress code?
"It's very hard to appeal to my love for the 90s when I am at work."
How do you make your work uniform personal?
"I hardly ever wear anything but jeans. I love them, and they make my butt look great[…] For shirts, I usually try and wear a patterned collared shirt that allows me to express myself but also stays within the company's regulations. These patterns usually involve polka dots and flowers. I also wear my 'work Vans' that I have owned since getting the position over two years ago. They started as all black Vans, but through all of my shifts they are now completely destroyed, but I like how they tell my story as a Starbucks barista."
Kayla, ice cream scooper at J.P. Licks
Dress Code: Company apron, no yoga pants or bottoms of a similar fabric, close-toed shoes, and a hair covering. Wearing company shirts and hats is encouraged, but not required.
Usual style?
"I don't know. I don't think I've ever had a very distinct style[…] I think I dress pretty casually, but I do own pieces that I think are very loud on their own. But I wouldn't necessarily call my entire style loud."
What do you sacrifice or compromise?
"Hair, for sure. Constantly having my hair in a ponytail bothers me[…] It's kind of messy usually, but it sort of adds [to my style]. I really hate my work sneakers; they're just about the ugliest pair of shoes on the face of the earth. Like neon green and pink and black Asics I got as hand-me-downs. I will give it to them though—they were the first pair of shoes that didn't make my feet feel like they were going to fall off."  
How do you make your work uniform personal?
"Making my work uniform personal has really been a shoulders-up kind of operation. I rely on accessorizing, so a lot of the time I'll wear earrings. I'll get a lot of compliments from customers and my co-workers as well about these pom-pom drop earrings that I have.
And then I only ever wear my 'Emerson College Dad' hat[…] sometimes it lends itself to connecting with customers that will end up starting a conversation."
Khadijah, eyewear consultant at LensCrafters
Dress Code: Professional-looking clothing, modest attire. Clothes must be white, grey, or black. Must wear black shoes that are either flats, dress shoes, or smart boots. Every week employees can wear a pop of color in an accent piece.
Usual style?
"My style on an everyday basis is generally casual and comfortable. I wear a lot of basics. I'm generally not adventurous with patterns or bright colors; I usually wear a lot of dark colors and a lot of burgundy. I'm usually wearing jeans or leggings and then a sweater. I also generally wear Vans or boots[…] I would describe my style as simple, casual, and slightly edgy... or at least I'm trying to inject a little edge into it [laughs]."
What do you sacrifice or compromise?
"The thing I compromise on is absolutely my shoes. I really just wish I could wear my nice comfy everyday Vans instead of having to wear flats or heeled boots because they're really not that comfy and a few hours on the job I really start to feel it."
How do you make your work uniform personal?
"I make my work uniform personal with my makeup. I often will wear a statement lipstick or wear some cool highlighter to give my whole look some life[...] If your outfit is basic but your makeup is slaying, I feel like it almost makes up for it. I also try on a lot of glasses at work and generally wear the more outrageous ones because it's fun. The last shift I worked, we got a bunch of new glasses and I wore a pair of gold Ray-Ban's which were sort of outrageous but helped me add a little fun to my outfit."
Art by: Morgan Wright