A Local Treasure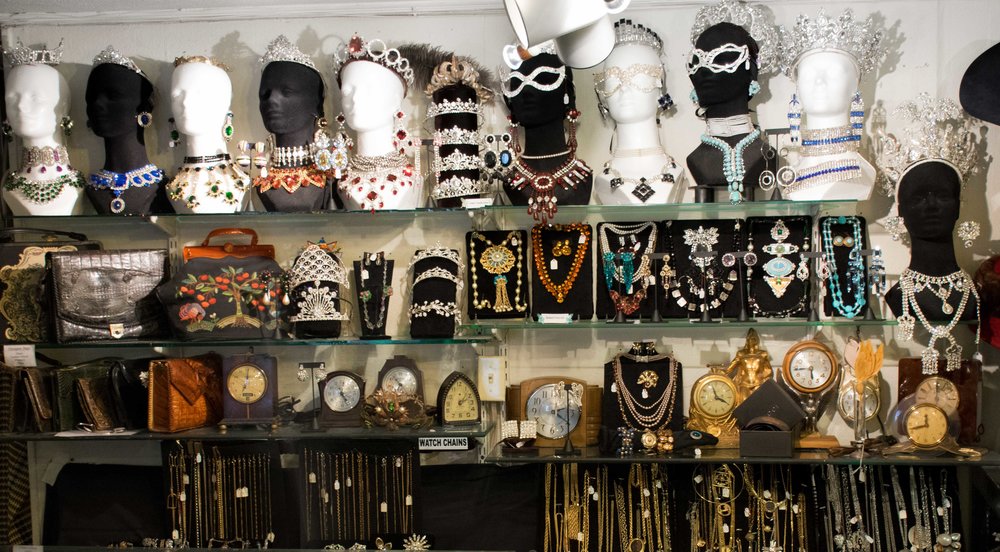 From Your Magazine Volume 3 Issue 1: September 2013 From the outside, it doesn't look like much, but even the very merry Land of Oz couldn't hold a vintage Marc Jacobs pendant to what the inside of Twentieth Century Ltd. has to offer to Boston's fine jewelry junkies.
Wedged between Steven's Pub and The Hungry I on Charles Street in Beacon Hill, just far enough down the street from Starbucks that most people never make it all the way there, Twentieth Century Ltd. is a hidden fashion treasure.
So, if their crème colored flag happens to catch your eye on your way to the Red Line, you may want to consider catching a later train and peeking inside.
If you do, you'll open their door, walk down a wood paneled entryway that's in need of a fresh coat of paint. At this point you will have to push yourself to keep walking until you reach the bottom of the stairs where you will be greeted by owner Paul Turnberg who will likely be smiling at you and sporting one of his many printed, multicolor ties. Along with Paul, you'll find his pup curled up in the corner in a doggie bed (while visions of bangles dance in his head) and over 2,500 pieces of sparkling, vintage, costume, and designer jewelry.
At this point, you will have to remind yourself to breathe.
Paul Turnberg was a jewelry man his whole life and decided to settle down in this little spot on Charles Street nearly two decades ago—he's been hiding out here selling Boston's most unique selection of vintage jewels ever since.
He is the man in charge of gathering all these glittering goods from estate sales and individual sellers and getting them here to Boston, so while you're browsing around the store, ask Paul a few questions! He really knows his stuff!
Cameos, cuff links, bakelite and beads, (like my grandmother's jewelry box on steroids) this place has a little bit of everything for everyone at every price. Visually, the assortment is quite overwhelming but taking a closer look will reveal that every piece is carefully organized by time period, designer and material—like a very sparkly encyclopedia.
Pieces range from $25 to $1,500, but each pendant, ring and gold plated chain is displayed with equal attention and care. If you're looking to spend, that won't be a problem; Paul can direct you towards the $1,200 Yves Saint Laurent chokers. However, if you are on a tight fashion budget, check out the $10 bin or the 3-for-$18 ring deal! It takes a bit of digging, but then again most hidden treasures do!
If you're looking for more deals, after the Christmas rush—TCL's busiest time of the year—the store runs a sale in January and February making it a great destination if you decide to venture out into Boston on a wintery afternoon!
Diva discount: You can also visit the store's website and print out a 10% off coupon!
Another perk that this place has to offer is the limitless amount of pieces you are allowed to try on while you shop! Paul, or one of his few friendly staff members, is happy to spend hours with you unlocking cases and grabbing things from "the back." These people seem to thrive on the fact that every moment provides the opportunity for them to give a brief history lesson on a particular piece, its manufacturing or how it made it all the way to Boston from places like England and Switzerland.
However, the incredible willingness of the staff to serve and entertain the customer also means that the folks at TCL don't mind one bit if you do your shopping while wearing one of their 1940's tiaras...touch it all, try it all!
In addition to an array of jewels the store also carries a small selection of vintage handbags, hats, clocks, and even these peculiarly intriguing black and white photos of long-gone parties and events that are placed subtly throughout the store. And while these pieces have all been gently used, Paul and his team have managed to keep everything in mint condition. Molly, a regular customer, Boston local, and antique freak comes by Twentieth Century Ltd. once a week for her weekly dose of Dior. She says, "I could really come here every day and still find something new every time."
In addition to sales, TCL also specializes in repairs, restoration, and appraisals on any classic pieces you may want to save or sell. This is an especially useful service for anyone who finds themselves constantly missing stones from a favorite necklace or ring or anyone who is prone breaking the clasp on a necklace or snapping a watchstrap or two.
So, after a long visit to what can surely be called the Emerald City of Charles Street we have to say, little Dorothy was right--there is no place like home. Paul Turnberg words it a little differently, "There's no place like Twentieth Century for vintage, designer, and antique costume jewelry."
Some of the finer things in life are even better than home.
*Photo courtesy of Twentieth Century Ltd.